'Spare Keys for Strange Doors' is currently on hiatus ...
... while I cope with a new baby, and attempt to finish my other webcomic
'Kaspall'
.
However, please feel free to read one (or indeed all) of the following six completed stories in the archive.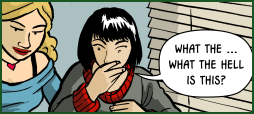 KILL THE ROMANCE
A young woman goes to excessive lengths to find the perfect boyfriend; and, unfortunately, succeeds.
(16 pages)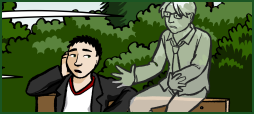 AFTER DEATH HANG-UPS
Toby offers to help a man suffering from death dissatisfaction, and a few things are explained. Also, lizards.
(29 pages)
THE BIRDS
Marion doesn't like pigeons.
(4 pages)
IN AT THE DEEP END
Breakfast is rudely interrupted when someone disappears at the local swimming pool.
(28 pages)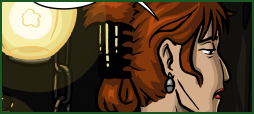 A SMALL GIFT FROM LEICESTER
It's Marion's birthday, so obviously Toby has planned a surprise visit to a creepy, abandoned warehouse.
(18 pages)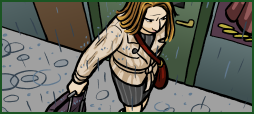 &nbsp
PEST CONTROL
Some days everything goes wrong. Maybe something really
is
working against you?
(17 pages)