So, yeah, I have four new items in my shop!
The Little Book of Panic (see above)
Parenting Comics - a 24-page comic gathering all the Parenting Comics I made back in 2018 (which you can still see on my Gallery page), and including some extra script bits that never got made into comics, but I wish I had got round to them.
A Sandman Fanzine – a tiny A7 folded zine with the eight portraits I did of characters from the Netflix Sandman adaptation ... I love these little folded zines and I want to make some more, though I've no idea what to put in them.
The Truth About Bunnies – this is not actually by me, it is instead my daughters first publishing effort, an 8-page zine about what bunnies get up to when you're not watching them.
As well as these, I'm also offering 25% off all Spare Keys books for one week only! I'll be clearing out most of the misprints after this week, so if you want a 244 page comic for £6, now is the week to pick one up! Use code SPAREKEYS25 at checkout, or follow this link.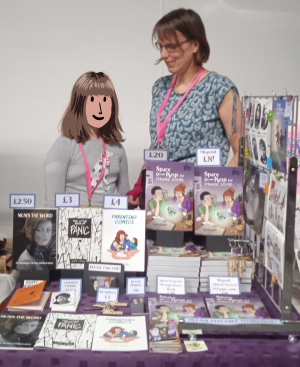 I did make it to Thought Bubble, though it was a mixed event. Things went so wrong at times that my friends suggested I had 'angered a witch'. The main thing being the car broke down half way to Harrogate ... and when I say it 'broke down' I mean, it's so broken we now have to sell it for scrap D: ANYWAY, that meant I was a day late for the con and only able to attend on Sunday – so many apologies if you came by on Saturday and missed me! That said, I did have a lovely time when I was there, meeting up with SpiderForest friends, and tabling with my daughter.