Posting here again slightly earlier than I expected - but I was reminded it was hourly comics day last week. It's something I've always wanted to do in theory, but never had the energy for before due to ... doing the webcomic. This year I was finally up for it (though still a day late). Apologies if my handwriting is a bit illegible ...

As I said last time, if you want to know what art stuff I'm up to, I generally post on my tumblr - you can click one of the links down the side ('My art', 'My photos' or 'Other posts') to filter out all the reblogs. I'll also be posting a selection here on a semi-regular basis (every couple of months or so), just click back to see the first batch.

My ko-fi shop has *nearly* perfect misprint copies of the Spare Keys books going for only £8, plus e-books of the official, proper version for £5 ... and a very limited number of official, proper print copies for £20.

---o0o---


I'm also going to post this fan art I drew a while ago of a character created by skessa of the webcomic Alethia. I am a big fan of Alethia, and I've been very excited to get a peek behind the scenes as skessa developed this new character - Anming, the god of secrets.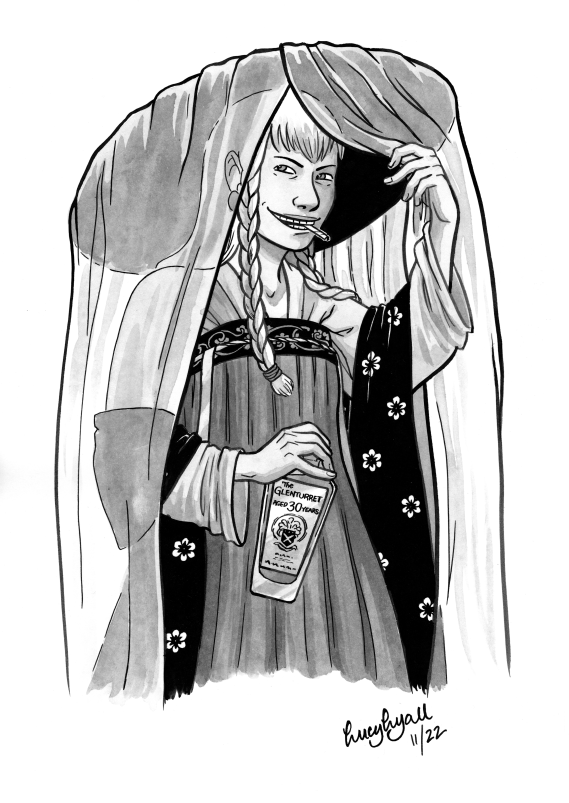 I had fun making this pic - I had to do some interesting research for it. Anming is wearing my best (and totally amateur) attempt at Chinese hanfu, specifically a Tang dynasty chest ruqun, and weimao veil. If someone tells me I've done it wrong, I will be in no way surprised. She is also holding one of the most expensive bottles of whisky I could find online, from one of the oldest distilleries in Scotland - a snip at £1,850. It was given to her as an offering for ... something. Who knows what? It's a secret.
I'm posting it now, because skessa has released a 28 page erotic lesbian comic featuring Anming for sale on itch.io, as a fun short before taking on the planned series (which will be work-safe). It's a sweet story, and I recommend you check it out ... assuming you're over 18 and not at work, as it gets pretty steamy!