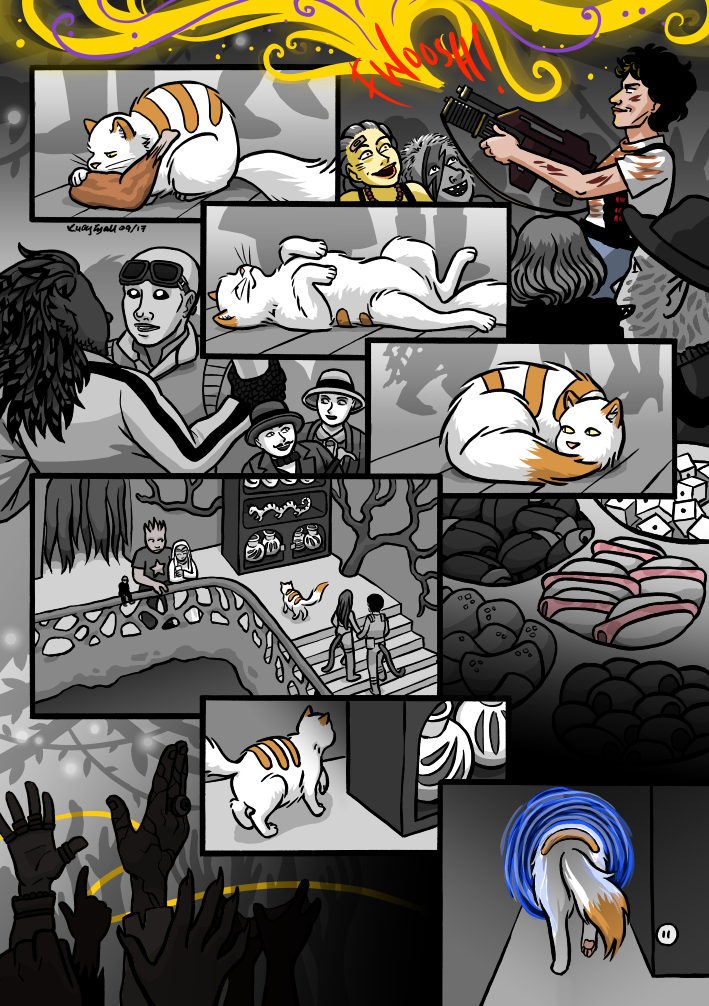 One day, I intend to do a comic set at one of Julie's parties. But today I am mainly thanking God that there were only two party pages in this script and I have now completed both of them.

I have added the costume list to the previous page, and now I am GOING TO BED, DAMN IT.

Edit 30/09: Or rather I have NOW added the costume list to the previous page. I guess I hit 'Preview' instead of 'Save' last time, and then didn't double check it actually went up. That's what I get for going to bed ...

---o0o---

Edit 04/10:
Firstly, for those playing along at home, the new costumes this week were ...

Top
- David Bowie ('Aladdin Sane' version)
- Black Widow (Scarlett Johansson version)
- Freddy Kruegar ('Nightmare on Elm Street' film)

Middle
- The Bride ('Kill Bill' film)
- Kaneda ('Akira' film)
- Hercule Poirot (David Suchet version)
- Miss Marple (Joan Hickson version)

On the stairs
- Teeny Tiny Agent J ('Men In Black' film)
- Steven Universe ('Steven Universe' TV show)
- Galadriel ('The Two Towers' film)
- Valerian and Laureline ('Valerian and Laureline' comic series)

Bottom
- A bunch of hands I made up, because in addition to legs, I also do not have time to research distinctive hands!

Secondly .... you've probably noticed that I changed the top panel.
Events this week left me feeling deeply upset, and very uncomfortable about that panel which was just supposed to be a stupid throwaway gag. So, I've altered it to this new version. Hope you like Julie's OTT light show.