Apologies for the delay on this page - Ti was inconvenienced by having to shovel through a bunch of snow drifts (not good for the drawing arm ...). Meanwhile, I'm alternately listening to my daughter telling me about all the things she's going to do 'when it snows', and news reports about how we're having some of the warmest December days on record :( Maybe I could get some Canadian snow mailed over here? I'm thinking they could spare it.

---o0o---

The fabulous Tiffany Munro of Stargazer's Gate is doing the art for this Spare Keys storyline, while I 'relax' with a new baby. Check out her comic here (dooooo iiiitttt):
'After Atrina vanishes through an alien gateway, Leawyn is certain Atrina is still alive and will do whatever it takes to bring her home.'


---o0o---

Spiderforest Comics of the Week! Due to the missed week, we've got two lots here - but as one of them was Stargazer's Gate, I figured I'd leave that off as I'm pretty sure you're aware of that particular comic by now :P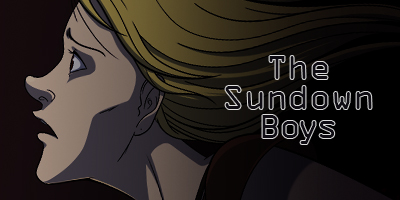 The Sundown Boys - Nineteen-year-old Adrienne, heir apparent to the expansive DeSaule Organization, finds herself targeted by her adoptive father's only biological child, Edmund DeSaule. No longer safe in the only home she has, Adrienne flees the DeSaule Space Station in search of help. Brothers Leon, Robert, and Geoffrey Heron are the only people in the galaxy that Adrienne knows she can trust. Unbeknownst to them, Adrienne is hurling through space in their direction, and she's about to ask them for one hell of a favor.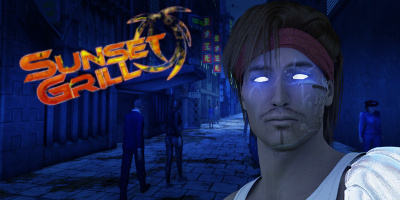 Sunset Grill - The year is 2426. Earth is a patchwork quilt of restive, squabbling Domains, loosely joined under the mantle of the Empire, whose primary goal is to present a united front to the dozens of technologically advanced, land-hungry, and not particularly moral alien races. The Empire controls the Sol weftgate, humanity's connection to the galaxy at large: through it goes a steady stream of cheap labor, gone to build, clean, or kill for the wealthier races, and through it comes the money and alien technology that fuels much of Earth's economy.
None of which matters particularly to the patrons of the Sunset Grill, a bar on the shady side of town in the run-down and corrupt city of Kieselburg. They're too busy staying alive. Because no matter what the year, there will always be those on the fringes struggling to survive. And no matter how distant, how strange, or how advanced the place, there will always be someone to ask that all-important question: "Hey, where do I go in this dump to get a decent beer?"
STORM AND DESIRE - an epic sci-fi/fantasy adventure comic about three women whose fates collide: WYNDERIA, a scientist-musician & interdimensional explorer; LORELEI, a cyborg translator & occasional singer; and ANJETTE, an intelligent weapon system & occasional sorcerer. Together they set out to learn the secret history of the multiverse ...