The good news is that I'm gradually crawling out of the dark void that is Baby 2: Year 1. Apart from when he's teething (ARGH TEETH GOD HOW MANY DO YOU EVEN NEED WHY), he's starting to sleep pretty well, which means I'm gradually clawing my evenings back. I'm still working out how to find enough time for a solid chunk of work though. It feels like whenever I get settled into working on something, it's time for me to go to bed - so I have to choose between stopping in the middle, or staying up too late and wiping myself out for the next two / three days. I'm going to have to get used to working in small chunks, but man it's frustrating.
The bad news is that Ti is still struggling with Real Life problems (stupid real life). I'm sure she'd appreciate any words of encouragement you can give to get us through to the end! And thank you for your comments over the past few weeks - it's always great to hear from you guys, and I am doing my best to keep an eye on things now.
If you follow one of my social media accounts, you'll we accepted fourteen great new comics into the SpiderForest webcomic collective following the spring application season. I listed out the links, but now it's time to give a more official welcome! Here's the first four for you to take a look at: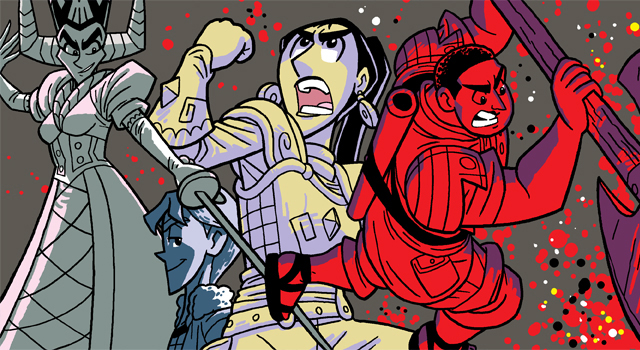 Monster Lands - A fantasy/dramedy story that focuses on the axe-wielding, monster-riding adventurer Othera as she battles against the tyranny of the evil queen Eren Lorry!

HELM - Embark on a journey across the dark and dangerous world of HELM in search of the legendary Bastard King.

Saffron and Sage - Saffron and Sage is a comedy/action comic about a group of adventurers trying to rescue a kidnapped Prince while learning valuable life lessons.

Sell Spell - When Sedo, an illegal spell-for-hire, is tasked with "retrieving" a mysterious artifact, he cons a gullible Mage's apprentice and his motley crew of bodyguards into helping him. However, as simple treasure hunt turns into treacherous cross-country journey, Sedo gets the sinking feeling he is being hunted… and more importantly, underpaid.

---o0o---

The fabulous Tiffany Munro of Stargazer's Gate is doing the art for this Spare Keys storyline, while I 'relax' with a new baby. Check out her comic here (dooooo iiiitttt):
'After Atrina vanishes through an alien gateway, Leawyn is certain Atrina is still alive and will do whatever it takes to bring her home.'