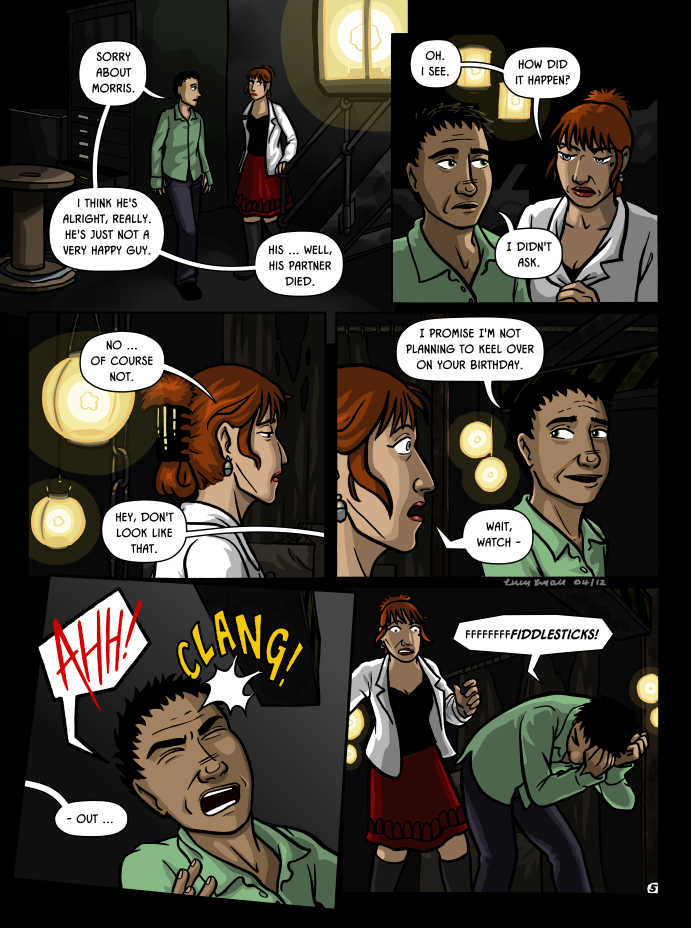 Oh, national flag. Why must you be so complicated to draw? Anyway, as promised, I'm away this week, so you've just got this. Hope all the UK readers enjoyed the Jubliee Bank Holiday.

Spiderforest Comic of the Week: Sunset Grill by katastrophe.




Seeing as how you've not got a proper Spare Keys page to read, now is an excellent time to go check out one of my old favourites. This is a great comic that's been on my links page for a lot longer than I've been a member of Spiderforest.

The year may be 2426, but that doesn't mean that cities don't still have bars. And shady districts. And bars IN shady districts - like, for instance, Sunset Grill. This is a comic that takes science fiction and social realism, sticks them lot into a blender, and tops the mix off with a healthy dose of black humour. Because, really, the hell not? And the characterisation is great - this isn't a world of 'good guys' and 'bad guys', but real people trying to get by any way they can.

One word about the art - yes, it is 3D. And some people have the habit of taking one look at a 3D comic and bailing. But seriously, give this one a chance. The writing is brilliant, and to be honest, I think the art is pretty good too. Maybe some of the poses and expressions are a little rough at the start, but then that's true of a lot of comics - and kat's work improves with practice, just like it would with any other artist. So check it out!

Okay, first off - there won't be a proper update next week. I've done a little pic, but that's it, as I'm going to be on holiday.
The next update will be on 14th June.

And secondly ...
Spiderforest Comic of the Week: Leylines by Robin.




Well, I was going to post about how I felt guilty that I hadn't had time to read this one through. HowEVER, then I thought I really should take a look at the start at least, and of course I ended up reading the whole archive ... It's not a long read - you can get up to speed in under an hour.

I could try and give a synopsis, but Robin has a nice short one that I don't think I can improve on:
Three siblings from a broken family are caught in the conspiracy that claimed their mother's life. To save their family and nation, they seek out ancient gods for answers - but the gods give nothing for free.

I'd heard good things about this comic previously, and I wasn't disappointed. It's very readable, with believable conversations, and characters that you want to learn more about. The feel of the whole thing reminded me a little of one of my most favourite ever comics - Finder, by Carla Speed McNeil. Robin clearly shares Carla's love of world building, and has already managed to get across some inventive culture and mythology, without ever force feeding it to the reader. And that's as well as all the politics, drama, weird dreams and sibling bickering.